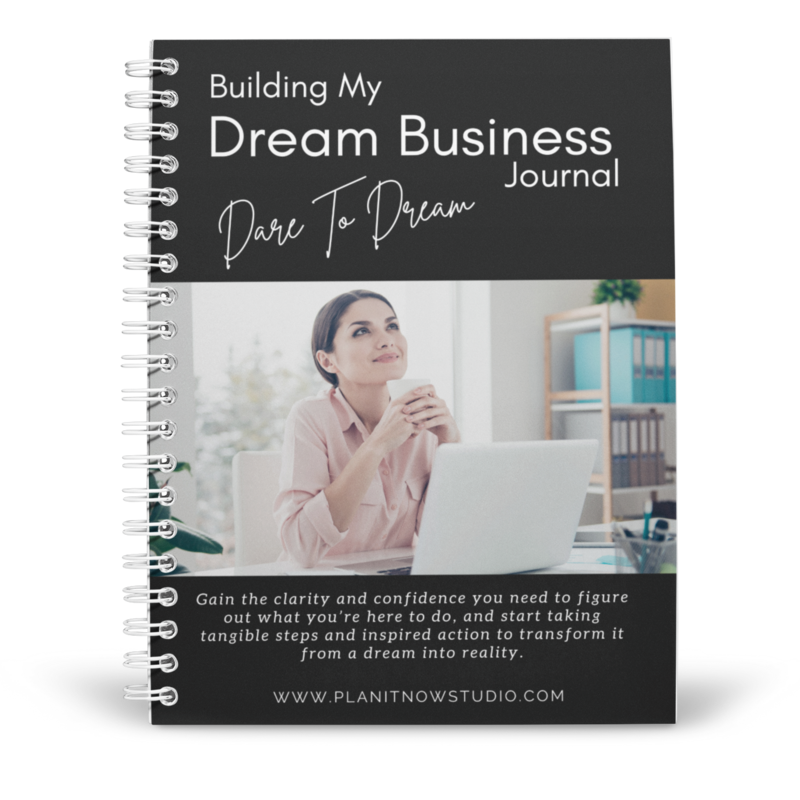 Building My Dream Business Journal
SKU 00003
Product Details
How Ready Are You To Start Your Dream Business?
Are you trapped in a soul-crushing 9-5 and hate that you're putting your precious energy toward someone else's dream (and yet you keep going because if not this, what else?)

Have you been kicking around several business ideas, but don't know which one is worth making a commitment to & which will truly light you up (not to mention, fill up your bank account!)?
Do you feel stuck in your current career or business but don't know what move to make next?
Do you enjoy what you do, but know something isn't quite right?
Are you running a business part- or full-time but you're working too much, working with the wrong clients or can't seem to make the cash you want to make?
Do you daydream about doing only what you want to do, and having tons of space in your days to have a life filled with people & activities you love?
In short: If you aren't excited to wake up (almost) every morning because you feel like you're doing the work you were put on this planet to do (and making good money, too!), this journal is for you.
"Building My Dream Business Journal" was designed to help you gain the clarity and confidence you need to figure out what you need to do, what your dream business actually looks like and start taking tangible steps and inspired action to transform it from a dream into reality.
It doesn't matter if you're living the corporate life (and have for years!) or you run a business that just doesn't feel aligned anymore, all you need is pen & paper (or your favourite word processing program, phone or tablet) to start making major changes.
It's a big deal to quit your "safe" day job, or to pivot your current business (which is still paying the bills–or at least some of them!–after all) or even just to change up your daily routine so you can spend more time doing what you love (and less of what you don't!).
The prompts inside this journal will give you what you need to flesh out your dream business vision, feel confident enough to pursue it and help you access the infinite wisdom already inside you, so you can release the fear & doubt (and indecision!) and bring your dream business to life.
Building My Dream Business Journal has 88 pages and is A4 in size.
Save this product for later
2021-02-23