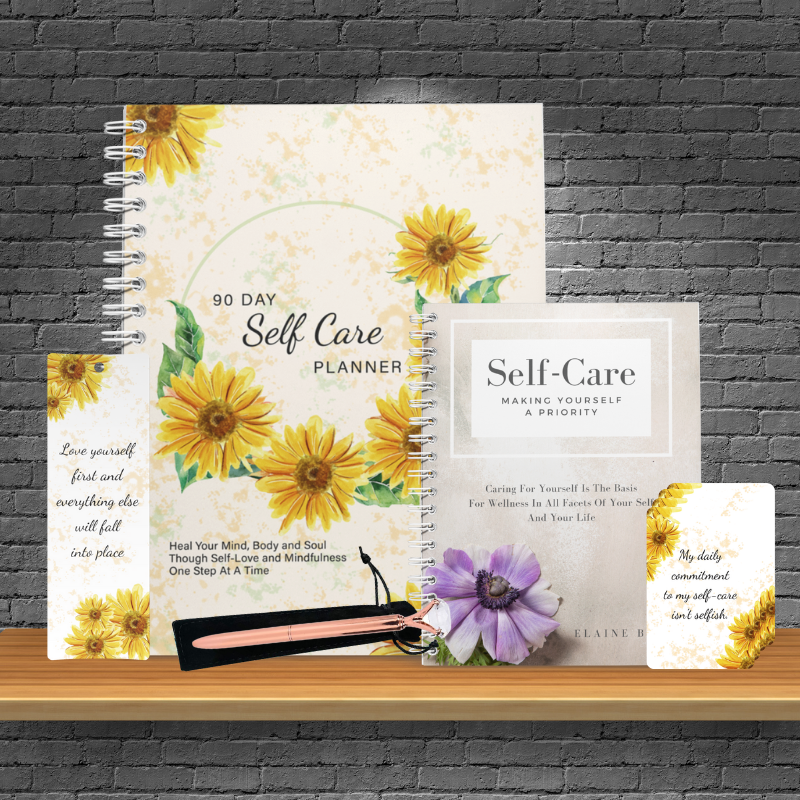 Self Care Planner Package
SKU 00000
Product Details
ARE YOU A BUSY WOMAN?

Odds are, you answered with a resounding "Yes!" that was so loud you startled your kids, your dog and your significant other. If you were in the library when you read that question, you probably got kicked out!
All kidding aside, women today have more on their plates than ever before.
Natural caregivers, who often place the needs of others before their own, women have to make time for their career, kids, friends, siblings and parents, and even their co-workers and neighbours.
Between running back and forth to and from soccer practice and school, work, responsibilities at home and social commitments, there never seems to be enough time in the day.
One day morphs into the next, a week becomes a year and you start to feel burned out, overwhelmed, exhausted, angry and unable to care for anyone.
Many women today are frequently neglecting the one person in their lives that matters most... themselves!
It is ironic that even though women are more naturally caring and nurturing than men, they seldom take the time to care for themselves.
It's a shame because self-care is really a simple practice that can lead to much improved health and well-being in mind, body, emotions and spirit.
If you are a woman that feels like something is missing in your life, emotionally or mentally, physically or spiritually, then maybe this has come at the right time to you - the universe is telling you something.
What's included in the Package?
1. Self-Care Planner - Colour Inners
This Planner Belongs to Page - Self Care Ideas Page - Words that Inspire Me - Record of Self Care Essential Oils - Record of Self Care Candles - References/Resources Page - Wellness Goals and Routines Pages
MONTHLY TRACKERS
Monthly Routines Tracker - Monthly Sleep Tracker - Monthly Mood Tracker - Monthly Habit Tracker - Monthly Gratitude Log - Monthly Medicine, Vitamins & Supplements Tracker
WEEKLY PLANNING & TRACKERS
Weekly Self-Care Tracker - Weekly Meal Planner - Weekly Exercise Planner - Weekly Diet & Exercise Tracker - Weekly Me Time Tracker - Weekly Self-Care Diary
NOTES & JOURNAL PAGES
2. Self-Care - Making Yourself A Priority
3. 20 x Self-Care Affirmation Cards
4. Bookmark
5. Rose Gold Pen with Black Velvet Pouch - pen style will vary.
Save this product for later
2021-02-23